This page is part of my main Sheryl Crow Fan Site - "SHERYL CROW 2011 - MY/BE ANGELS FANSITE" - Click Here for Main Site Page.

NetAid: SC @ Giants Stadium NJ-October 9, 1999. Six Photos provided by Bert.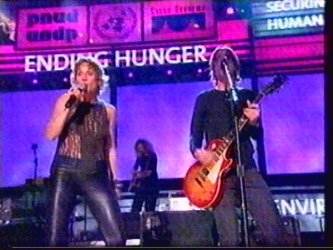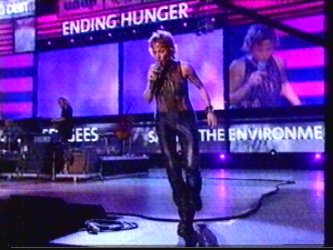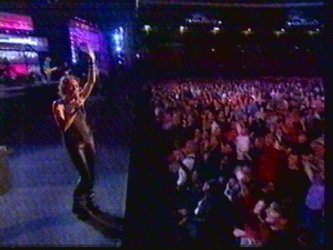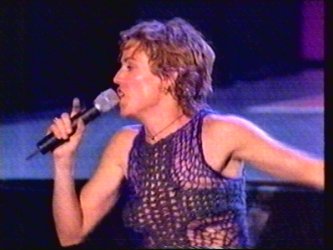 Comments provided by Launch.com- Oct. 12+13. Additional coverage provided Sony Music, BBC online, and Rolling Stone-Matt Hendrickson. Six Photos provided by Bert-UK and One provided by Launch.com, Thank you!!
"I get excited to see everybody at these things," Crow says, "because on tour I rarely get to see anyone." People Magazine.
Posted Oct. 13, 1999
Sheryl Crow says that she originally had a negative outlook on the Web, but NetAid changed her perception when she saw artists and the Web teaming up to make a difference. "There's a real propensity for people to lose themselves in a very kind of reclusive environment, you know," she says. "You spend so much time logging on in your bedroom or wherever your computer is and not feeling a sense of involvement in the world, and I think this is an excellent opportunity to involve people in a higher-minded cause. That was really what pegged my interest in it.
"I think if people actually do follow through and log on and get involved in one
of the five pillars and feel like they're a part of something, then that's a great
way to bring the millennium in," Crow adds. "That's why I was interested in
being a part of it. You can bitch and moan about change and about progress,
but it's great when you see things coming into a positive light."
Posted Oct.12, 1999
Launch asked Sheryl Crow, who played midway through the show and
participated in the worldwide sing-along, "NetAid Unity," about the
audience: "I thought they were great. I have to admit that when I
walked out I was concerned that perhaps it wasn't advertised enough
or like my Central Park gig there was a presence of control there.
For an event like this it's as much about the TV presence as anything
because you're trying to draw awareness."
Ms. Crow's 20 minute set list . Songs aired on VH1
*recorded @ 7pm, aired 9:50pm VH1
If It Makes You Happy
My Favorite Mistake
Everyday Is A Winding Road
*There Goes The Neighborhood
----------------------------------------------------------------------------------
BBC Online
*** NetAid gets 2.4 mln Web hits
NEW YORK (AP) - More than 2 million people logged on to the World
Wide Web to watch Saturday's NetAid concerts held to fight poverty,
organizers said Monday. The Web site logged 2,385,455 visits for the
Internet broadcasts alone, said Mojgan Khalili, a spokeswoman for
Cisco Systems Inc. Other visitors used the Web site to learn about
conditions that foster poverty, make donations and volunteer help.
The NetAid concerts in London, Geneva and East Rutherford, N.J.,
featured the Eurythmics, U2's Bono, Jewel and dozens of other
musicians. Sponsored by the United Nations, Cisco and other Internet
companies, the concerts aimed to draw attention to the Web site.
Khalili said she knew of no technical problems that prevented users
from accessing the Web site during peak periods on Saturday. The site
remains operational, and organizers hope to get 1 billion visits by
the end of the year. The endeavor proved to be a technological feat.
The Web site used 1,500 powerful server computers in 90 locations
worldwide. Engineers designed the site to handle 60 million "hits"
every hour, a figure 10 times higher than peak online visits during
the last Olympic Games.