This page is part of my main Sheryl Crow Fan Site - "SHERYL CROW 2011 - MY/BE ANGELS FANSITE" - Click Here for Main Site Page.
SC and Friends in Central Park with set lists. Aired live on Fox, Tuesday Sept. 14, 1999.
Photos taken by Don!! Concert reviews written by my good friends Jade and S.S.!! Also articles by the NY Post, and Sonicnet link. Thank you all very much!!
"I felt like it was not only worthwhile, but also something that will be fun and exciting,"- quote appearing in The Buffalo News' People in the News Section, Sept. 10, 1999 (AP)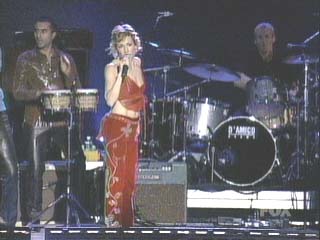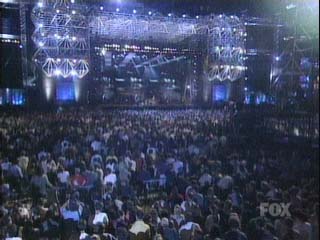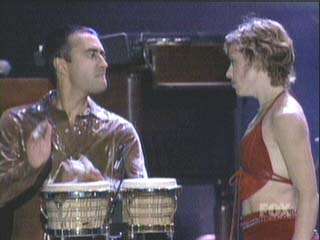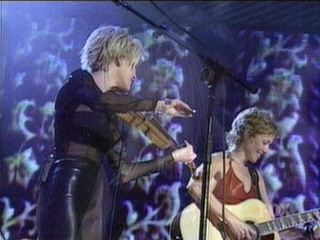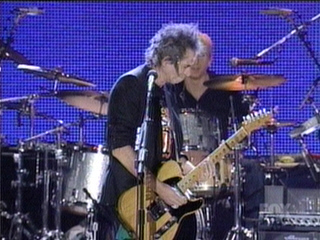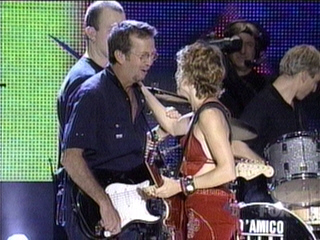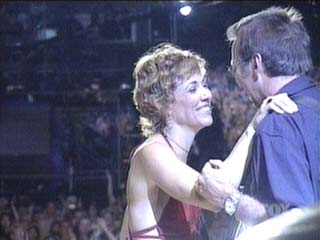 Written By Jade
I managed to get tickets to the central park concert with Sheryl and Friends. It was great, a very very good concert. The concert started at 8 but wasn't televised until 9. Sandra Bernhard came out and announced the concert saying "this is brought to you by the Blue Card, I'm sure you all have one, I don't know what the (blank) it is." Sheryl opened with Change, then Anything but Down, Can't Cry, and Leaving Las Vegas (which was great). Then Sarah Mclachlan came out and they did a duet of Angel. At nine o'clock, as I'm guessing you know, she opened with Everyday is a Winding Road.
During the commercial after My Favorite Mistake, the Dixie Chicks came out and sang with her again. During the next commercial she and Keith Richards did Sweet Child of Mine, if I remember correctly, then she did Little One with Eric Clapton during the next break. She closed with There Goes the Neighborhood and then played All I Wanna Do as an encore. But what really made the concert so great was that she was having a great time, she just looked like she was having so much fun. Anyway, the whole 2 hour concert is going to be replayed on Fox FX on Sunday at 8 I believe.
---------------------------------------------------------------------------------------------------------------------
Review by:
S.S. from Niagara Falls NY
Well, Sheryl fans....I must say I have been blessed once again for being able
to travel to New York without tickets and getting in to see Sheryl. The evening was beautiful, and Sandra Bernhard started it out by saying we should thank God for giving us such beautiful nights as the one yesterday. Sheryl started it all off with "a change will do you good" which got me shaking my ass and not stopping until the finale. For the rest of the hour which was not televised Sheryl played cant cry anymore, anything but down, leaving Las Vegas, Sweet child, Am I getting through, It dont hurt and Angel with Sarah.
The two of them were giggling during the first minute of the song because Sarah's microphone kept moving and Sheryl kept on trying to fix it. During the first commercial Sheryl presumed to tell the crowd a joke, no one laughed but that made it even funnier, it was something about a skeleton going into a bar. She then yelled out...."hey this is a family show, I have to keep it clean" she was having a real good time. The second commercial break she sang with the Dixie Chicks (whom I also think are amazing) on Mississippi. The third break was a duet with Keith Richards on a Chuck Berry song "Sweet little rock and roller" it was really a great song. The last break she sang again with Clapton on the song "Little wing". After the televised There goes the Neighborhood, everyone joined her on a bob Dylan song "Tombstone" at the end of that she thanked everyone and said "Now Im going to the bar". However she graced us with her presence one last time to sing "all I wanna do".
Entire setlist:
A change
Anything but down
Cant cry anymore
Vegas
Sweet child
Angel w/ Sarah
Am I getting through
It dont hurt
Everyday is a winding
My favorite mistake
Strong enough w/ the dixie chicks
The difficult kind w/ Sarah
Gold dust women w/ Stevie nicks
If it makes you happy w/ Chrissie Hynde
Happy w/ Keith richards
White Room w/ Clapton
There goes the neighborhood
Mississippi w/ The chicks
Sweet little rock and roller w/ Richards
Little wing w/ Clapton
Tombstone w/ all
All I wanna do
---------------------------------------------------------------------------
Written by Dan Aquilante-NY Post.
SONGBIRD SHERYL FLIES HIGH WITH HER FRIENDS
Most summer nights, there's no place like Central Park to see stars. But sometimes, like last night, it's superstars that shine brilliantly there.
Sheryl Crow, who became a citizen of Skyscraper Park last year, threw a housewarming
party for 25,000 of her neighbors.
The free outdoor event at the East Meadow featured Crow in a two-part program. After
appearing solo for the first set, she invited friends such as Sarah McLachlan, Stevie Nicks, Chrissie Hynde, Keith Richards and guitar-god Eric Clapton to join her.
Crow was hot in her opening set, wearing a midriff-baring halter-top and red slacks.
Although she was good in that early set, playing hits such as "A Change Will Do You Good," "Leaving Las Vegas" and "Can't Cry Anymore," the set was treated as a warm-up for the second half, which was broadcast on Fox TV.
The later portion of the show was pure star power, complete with song breaks for TV
commercials. Joining Crow first were country stars, the Dixie Chicks. They got a good response, but it was Nicks, Crow's second guest, who rallied the fans.
Of Crow's second-set solos, her version of Dylan's upbeat and very-un-Dylan-like "Mississippi" scored big with fans. The mostly female guests were given a testosterone cocktail by unannounced player Richards of the Rolling Stones. On stage, Richards, reprised "Happy," with guitar aid from Crow and Hynde. Cadaverous Richards hit his peak during the second tune, "Sweet Little Rock 'n' Roller," in which he did a top-notch Chuck Berry impression.
The response to everyone who joined Crow on stage - even Richards - was polite, by comparison to the cheers and applause garnered by Clapton.
His two song mini-set opened with the Cream classic, "White Room," followed by a version of Hendrix's "Little Wing." The arrangement for that tune was the same with which he ripped the Garden apart earlier this year.
Crow reclaimed the stage with "There Goes the Neighborhood," a good song, but hardly the evening's best, followed by a jam from all of the evening's guests. This all-star jam was better that most. It featured Dylan's "Tombstone Blues," one of his best. Hynde was the top singer during that set, and Richards made the best moves during the song as he tried to pick up one of the Dixie Chicks during his guitar solo.
The real finale came when Crow, freed from the watchful eye of television cameras, did her signature song, "All I Wanna Do (Is Have Some Fun)."
And it was here, she and her fans did.