This page is part of my main Sheryl Crow Fan Site - "SHERYL CROW 2011 - MY/BE ANGELS FANSITE" - Click Here for Main Site Page.

Sheryl on NBC's "Today Show"- August 6, 1999 @ 8:30 am ET. 3 photos provided by Don. Thank you!! Review written by me.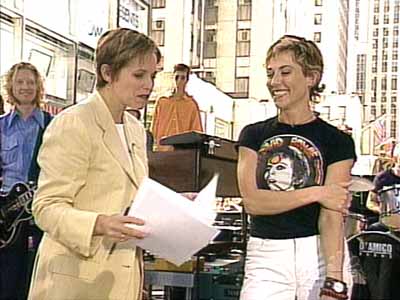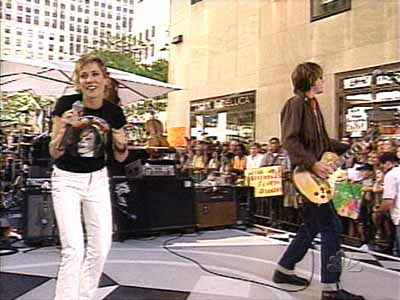 Sheryl makes you happy on "Today Show"- She performed wearing a David Bowie black shirt, his name was multicolored, and white pants. Sheryl was goovin' with the crowd, guitar and bass-less on "Everyday Is A Winding Road." Then her current single "The Difficult Kind" with guitar in hand, and lastly "If It Makes You Happy." One sign from a fan said "Sheryl Crow is my hero" and another fan showed the camera her white plate which SC had signed. How cool is that!! Well... I'm going back to bed now, rolled outta bed at 8 am just to see Sheryl. Its always worth it. Catch ya later!